Cooper Centre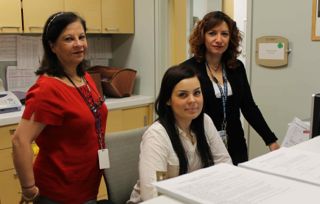 The Sydney and Florence Cooper Family Education Centre is a beautifully designed, multifunctional facility located within Mount Sinai Hospital and designed for Inteprofessional Education. Located in the Joseph and Wolf Lebovic Building, the Cooper Centre is home for medical students and other health professional education students at Mount Sinai Hospital.
Rooms
Classrooms A and B (separate)

Each accommodates 35-40 people in theatre style seating, and has a projection screen and flat screen monitor

Classroom A and B (combined)

Accommodates 100 – 120 people in theatre style seating

Examination rooms (Six total)

Facilitates clinical room encounters and contains a computer, examination table, examination equipment, sink and a discrete observation galley

Seminar Rooms (Ten total)

Equipped with conference tables
Rooms 1,  7, 8, 9 & 10: accommodates eight people
Room 6: accommodates 12 people
Rooms 3 & 5: accommodates 16 people
Room 4: accommodates 20 people
Educational and Conferencing Equipment
All classrooms and seminar rooms contain:
Podium with touch-control pad
Internet-equipped computer
DVD/VCR
Microphone
LCD projector and screen
Webinar and teleconferencing capabilities
Additional Features
All seminar rooms feature Smart Boards
Large classrooms and the larger seminar rooms have videoconferencing capabilities
Clinical encounters in the examination rooms can be viewed remotely, both live or by video recording.
Student lounge feature contemporary furnishings and a fully-functioning kitchenette and a wall-mounted flat screen television.
Some wireless capability
Harvey and Lung simulator
Contact Us and Directions
The Cooper Centre is located at 60 Murray Street, 3rd floor, Rm. 300 just across the street from the Murray Street entrance of Mount Sinai Hospital. The Cooper Centre is just south of College Street and west of University Avenue.
Main Line: 416-586-4800 x8389
Fax: 416-619-5540
Email: coopercentre@mtsinai.on.ca