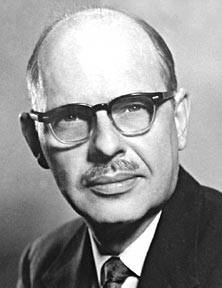 Dr. Keith John Roy "Kajer" Wightman (1914-1978) graduated from the University of Toronto, Faculty of Medicine in 1937. After a fellowship in England, and service in the Royal Army Medical Corps, Dr. Wightman returned to Toronto in 1946 and joined the staff at the University of Toronto and at Toronto General Hospital. In 1960, he was appointed chair of the Department of Medicine and Physician-in-Chief at Toronto General Hospital, a post he held until 1970. As Chair of Medicine, the department saw unparalleled growth and development, with the creation of more full-time positions and the beginning of long relationships with fully affiliated teaching hospitals.
Dr. Wightman's skills as an educational administrator resulted in many university and national honours. However, it is as a practicing physician, teacher and a humanist that he is most fondly remembered at the University of Toronto and Toronto General Hospital. He was beloved and respected by all who knew him for his integrity, compassion, devotion to the practice and teaching of Medicine. Appropriately, Dr. Wightman was the first recipient of the coveted "Silver Shovel" award, given by medical students.
At the 1976 Spring Convocation at the University of Toronto, Dr. Wightman was awarded an honorary degree. The citation described him as "more than a superb scientific and thorough physician, one whose instinctive makeup includes generous measures of modesty, humility and gentleness. [He is] one of God's gentlemen."
In his address to the graduating students at the same occasion, Dr. Wightman spoke to a necessary resurgence of intellect and attention to detail in the field of medicine:
"I personally deplore the anti-intellectual climate of recent years, and the denigration of science and the lack of adequate support for scientific research, but I have to testify to my own deep disillusion with the influence of intellect in our society, and my conviction that it will never prevail unless it is balanced by a concomitant spiritual development, which we tend to relegate as something unnecessary… It is obvious that the world needs a resurgence of spiritual values, and that this applies particularly to the medical profession. At a time when we were comparatively impotent from a scientific point of view, we were noted for our dedication, our concern for patients, our lack of concern for financial incentives and erudition in fields outside Medicine. There are individuals in our profession who still manifest these virtues, in addition to scientific acumen, and then are true giants." (UofT Bulletin, May 21, 1076)
Dr. KJR Wightman is memorialized throughout the Faculty of Medicine by the naming of ward services, medical postgraduate divisions, a Gairdner Award, and a Wightman Club whose members are former students. These recognitions, primary organized by students and colleagues of Kajer, are a testimony to the personal stature of the man and the influence he had upon the medical life of the Faculty of Medicine and Toronto General Hospital.