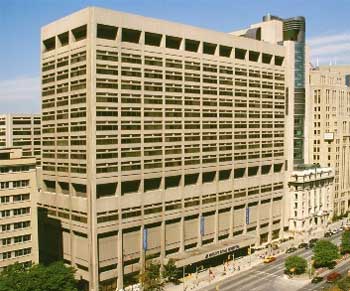 Since 1923, Mount Sinai Hospital has established itself as an internationally recognized facility, dedicated to excellence in patient care, through the creation of Centres of Excellence that allow interactivity and interprofessional care between departments.
Centres of Excellence
Frances Bloomberg Centre for Women's and Infants' Health is the largest and most comprehensive academic program in Canada. Focusing on the health of women and infants, from general obstetrics and gynaecology, to high-risk obstetrics, to the treatment of infertility, urinary incontinence and menopause, the Centre also sees the birth of approximately 6,500 babies every year.
Christopher Sharp Centre for Surgical Oncology is an internationally-recognized centre within a provincially designated hospital for the treatment of sarcoma. In addition, the Centre focuses on the core elements of Sarcoma, Head and Neck, Breast, Urological and Oculoplastics. Within the Centre for Surgical Oncology is the Marvelle Koffler Breast Centre which offers multidisciplinary care to more than 30,000 women annually.
The Daryl A. Katz Centre for Urgent and Critical Care provides patient care in an innovative and comprehensive way, in essential inpatient and ambulatory care programs at Mount Sinai, including Diabetes, Internal Medicine, Critical Care and Respiratory Failure, and Cardiology.
The Centre for Inflammatory Bowel Disease uses evidence-based care and leading research to develop corrective procedures.
Centre for Musculoskeletal Disease is also unique in the development of corrective procedures for musculoskeletal disorders. With an expanding focus on bone and musculoskeletal research, chronic diseases and health and wellness programs, the Centre is expected to continue growing to meet the needs of an aging population.
Samuel Lunenfeld Research Institute is one of the world's leading centres focusing on the discovery, translation and application of health research. Closely studying programs like systems biology, women's and infants' health, cancer biology, diabetes and genetic disorders, researchers work with physicians and clinicians to develop collaborative ideas that translate directly into patient care.
Mount Sinai Hospital: Firsts
1953: First outpatient department in Toronto that offers prenatal instruction and diabetes education in four languages
1955: First Family Practice Unit in a large city hospital in Canada
1974: Hospital launches Canada's first Patient Representation Program
1974: Development of a test for newborns with congenital hypothyroidism and corrective treatment
1980: Hospital is the first site of National Breast Screening Study
1981: First High Risk Perinatal Unit in Canada
1984: First heart-lung transplant, in collaboration with Toronto General Hospital
1987: First fresh tissue hip transplant
1988: Introduction of invasive fetal intervention procedures to monitor and treat rare blood disorders in mothers and babies
1992: MSH Department of Nursing selected as World Health Organization Collaborating Centre for Nursing
1993: Researchers demonstrate that mouse embryonic stem cells are capable of supporting the entire embryonic development, creating completely cell cultures derived mice
1996: Establishment of first endowed chair for nursing research, the Heather M. Reisman Chair in Perinatal Nursing research
1998: First Surgical Skills Centre in North America opens, in collaboration with the University of Toronto
1998: Developed the first trophoblast stem-precursors of cells that form placenta
2001: first multidisciplinary Chronic Pelvic Region Pain Unit in Ontario
Mount Sinai Hospital – 600 University Avenue, Toronto ON  M5G 1X5
Main Line: 416-586-4800