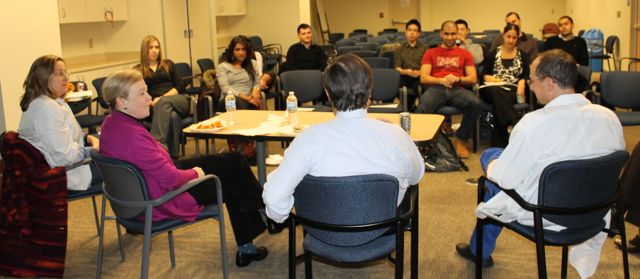 Our formal mentor programs include:
WB Mentorship Program
Faculty from the University Health Network and Mount Sinai Hospital are recruited to particpate as mentors for students during pre-clerkship. Students are matched with a faculty member and given the opportunity to meet with them in an informal setting to discuss individual goals, observership opportunities, and career counselling.
Peer-to-Peer Mentorship
The Peer-to-Peer Mentorship program links a small group of eight students from all four years together electronically. It is hoped that this will foster easier interaction, communication, guidance and advice between senior and junior medical students.
Academy Scholars
During clerkship, Academy Scholars are faculty chosen to serve as mentors and facilitators in the Portfolio Program. This program promotes self-assessment and peer-assessment as students build their portfolios and understanding of the non-medical expert CanMEDs roles.