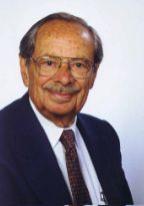 Dr. Barnet Berris was born in Toronto in 1921, to Eastern European immigrant parents. In 1944, Dr. Berris graduated from the University of Toronto, Faculty of Medicine, and went on to complete his  internship at St. Joseph's Hospital. He served in the Royal Canadian Army Medical Corps as a medical officer treating soldiers in Canada near the end of the Second World War. After completing his postgraduate training in Internal Medicine at the University of Minnesota in Minneapolis, he returned to Toronto. It was during Dr. Berris' efforts to obtain a full-time position in Toronto that he fully experienced, and subsequently broke down barriers faced by Jewish doctors in Canada at the time.
In 1951, Dr. Berris was appointed staff at Toronto General Hospital, becoming the first Jewish doctor to be granted a full-time faculty position within the Department of Medicine.
In 1964, Dr. Berris became  Chief of Medicine at Mount Sinai Hospital, a position he held until 1977. When Dr. Berris became Chief of Medicine, the Mount Sinai Hospital had only recently become a teaching hospital affiliated with the University of Toronto. Dr. Berris was responsible for building the hospital's foundations in research and education. He fostered the growth of a teaching program for medical students, interns and residents, supported the development and expansion of research activities including the Liver Research Unit, and recruited excellent clinical, teaching and research staff.
As a clinician, he was beloved by his patients for his caring and compassion. His diagnostic acumen was renowned and widely respected by others in the medical community. As a teacher, he was known as exceptional, inspiring and an outstanding role model. His research career was productive, resulting in over 60 publications on various aspects of internal medicine, including liver disease, which appeared in peer-reviewed journals.
Dr. Berris was active in supporting the Faculty of Medicine's academic mission. He was an examiner for the Royal College of Physicians and Surgeons in Canada, and was a member of the governing council of the College of Physicians and Surgeons of Ontario.
He continued to teach clinical medicine until 1987, well into his retirement years.
In 1998, in recognition of his outstanding and exemplary contributions to Medical Education at the University of Toronto and Mount Sinai Hospital, his name was chosen to represent the partnership in education between Mount Sinai Hospital and the University Health Network, for the newly named Wightman-Berris Academy. The joining of names to represent the academy was especially fitting as Dr. JR Wightman, Chair of Medicine at the same time that Dr. Berris was beginning his career as Chief of Medicine at Mount Sinai Hospital, was an important mentor, trusted collaborator and friend.
In an excerpt from his memoir, "Medicine, My Story" Dr. Berris spoke of this proud moment:
"This was an unexpected honour that gave me great personal pleasure. I have warm memories of working with Dr. Wightman when he was chair of the University Department of Medicine and I was Chief of Medicine at Mount Sinai. He was my mentor and my friend, and to have my name linked to his is a great source of pride for me."
Colleagues at Mount Sinai Hospital established the Barnet Berris Lectureship in Medicine. Community and physician leads established the Barnet Berris Chair of Cancer Research at the Weizmann Institute in Israel in his honour.
In 2001, Dr. Berris published his memoir "Medicine, My Story".
Dr. Barnet Berris passed away on October 5, 2009.