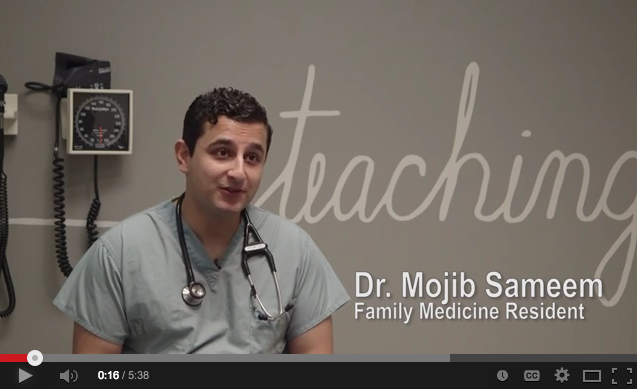 Michael Garron Hospital (MGH) is filled with high quality and hands-on clinical opportunities for University of Toronto undergraduate medical students.  Our large community-based regional, acute care hospital, established in 1929, has a long history of providing quality education to medical learners and is committed to continually striving to support learners.
A unique learning experience you can't find in downtown sites…
Students get 'hands-on' experiences
Students are NOT the bottom of the totem pole as they work closely with the faculty
Fewer medical learners around
1-on-1 teaching from award-winning preceptors
Warm and friendly learning environment
High volume guarantees student exposure…
A very active Emergency Department – – 67,000 annual visits
Over 20,000 inpatients + 220,000 outpatients annually
Over 3,500 babies delivered annually
The community hospital in the city…
A major community teaching hospital affiliated with UofT
Currently serving over half a million people living in East Toronto
Includes the eclectic neighborhoods of Greektown and The Beach
Diverse population that provides a culturally rich interaction
Growing population of young families resulting in an active pediatrics and obstetrics experience
Its not as far "East" as you think…
Conveniently located east of the downtown core
5 min walk or 2 min bus ride from the Danforth subway line (Coxwell Station)
Directions to Michael Garron Hospital 
TEGH currently hosts two groups of ASCM1 and ASCM2 learners, and provides core rotations for Wightman–Berris clerkship students in several highly-rated departments:
–        Anaesthesia
–        Emergency Medicine
–        Family & Community Medicine
–        Obstetrics & Gynaecology
–        Otolaryngology, Head & Neck Surgery
The high volume and extensive breadth of acute common health problems you see while training at MGH will form the bulk of your future learning experience.  With a long and proven history of providing high-quality medical education TEGH medical learners are guaranteed access to some of the best teaching in the city.
Michael Garron Hospital – 825 Coxwell Avenue, Toronto ON   M4C 3E7
Main Line: 416-469-6580
Link to additional information about Michael Garron Hospital
Useful Links:
East York State of Mind   (Train at MGH and become a "Star"…)
Michael Garron Hospital Website
Education and Research at Michael Garron Hospital